UC Santa Cruz is located on California's Central Coast overlooking the spectacular Monterey Bay – 75 miles south of San Francisco, 45 miles north of Monterey and Carmel, and about 35 miles over the coastal mountains from Silicon Valley and San Jose. The campus address is: 1156 High Street, Santa Cruz, CA 95064. Click these links for Santa Cruz area attractions including UCSC Destinations www.ucsc.edu/visit/destinations.html and Local Tourist information www.santacruz.org.
Directions to Santa Cruz
From San Jose Airport (SJC):
 Take Route 880 south to Highway 17 south to Route 1 north to Santa Cruz (about 33 miles).
From San Francisco Airport (SFO):
 Take Route 101 south to Route 85 south to Highway 17 south to Route 1 north to Santa Cruz (about 62 miles).
From Oakland Airport (OAK):
 Take Route 880 south to Highway 17 south to Route 1 north to Santa Cruz (about 66 miles).
From Monterey Airport:
 Take Route 1 north to Santa Cruz (about 45 miles).
From Southern and Central California:
 Take Route 101 north to Route 156 west to Route 1 north. Then follow Route 1 north to Santa Cruz.
From Northern California:
 Take Route 5 south to Route 80 west to Route 680 south to Route 280 north. Then take Highway 17 south to Route 1 north to Santa Cruz.
Bay Area Airports via Public Transportation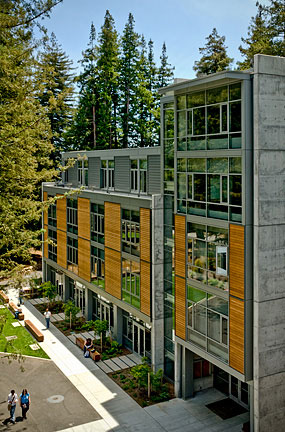 Directions to Campus
From Highway 17, exit Highway 1 North (toward Half Moon Bay) and make a slight right to follow the highway as it becomes Mission Street through town. Travel approximately one mile north to Bay Street in Santa Cruz. Turn right on Bay and proceed up the hill to the main campus entrance at Bay St and High St. Stop at the main entrance kiosk for a parking permit. If the kiosk is closed please go to the campus parking office.
Directions to Humanities
Once you pass though the main UCSC entrance on Bay Street and High Street, continue on Bay Street which becomes Glenn Coolidge Drive. Continue straight on Glenn Coolidge Drive. You'll pass two stoplights; then, Glenn Coolidge Drive will curve to the left and become McLaughlin Drive.  Stay on McLaughlin Drive and turn left into the entrance of Cowell College, before the corner of Hagar Drive and McLaughlin Drive. The Humanities Building complex will be on your right as you drive into the entrance of Cowell College. Those walking or arriving by Metro bus or campus shuttle should disembark at the Crown/Merrill bus stop (campus shuttle and Metro bus lines 10, 12, 16, 20).
Parking
One-day visitor permits may be purchased at the main entrance Kiosk, for $5-$8, or at the Parking Sales Office located at the base of campus. Parking permits are required seven days a week in the lots located closest to the Humanities Building (Cowell/Stevenson parking lots 107, 108, 109, and 110). On evenings and weekends, you can buy a permit at the paystation in lot 109 after 4:30pm on weekdays and all day on weekends. Click here for more parking info http://taps.ucsc.edu or call (831) 459-2190.
Those needing accessible parking spaces have several options. There are two accessible spaces located in front of the Humanities and Social Sciences Facility, one space in the Cowell Circle, and several "medical" spaces reserved in the first small lot mentioned above. ("Medical" spaces are reserved for those with disabilities, but who don't need the additional width of standard accessible parking spaces.)
Hotels and Airport Shuttles
Below are a list of hotels and airport shuttles we commonly use:
Dream Inn (831) 426-4330
West Cliff Inn (831) 457-2200
Hotel Paradox (831) 425-7100
Sea and Sand Inn (831) 427-3400
Uber/Lyft (most affordable option)
Santa Cruz Airport Flyer (shared ride shuttle) (831) 423-5937
Early Bird Airport Shuttle (831) 462-3933
Santa Cruz Tesla Shuttle (831) 421-9883
Ruben's Airport Shuttle (831) 325-5836
Coastal Express Transportation (831) 768-8007
For more information or for recommendations on lodging and transportation, please contact Evin Guy at ecguy@ucsc.edu or (831) 459-5655.
Maps
Humanities Map // Google Map // Campus Map